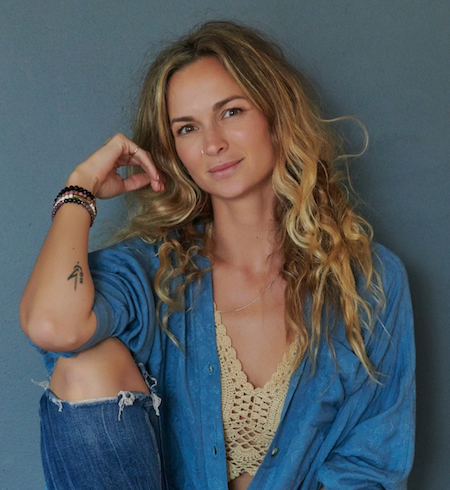 I'm Katherina, a mental and emotional wellbeing coach with a passion for adventure. I believe in the power of self-love and personal alignment as the foundation for healthy and fulfilling relationships with ourselves and others as well as to lead a full life. My journey has taken me to various corners of the world, where I've learned and grown through my experiences. Along the way, I've honed my skills in Mental and Emotional Wellbeing Coaching, Tantra, Energy Work, Somatic Healing through Intuitive Touch, and Yoga. Also, I am currently pursuing my MS in Psychology.  I am dedicated to deepening my comprehension of ourselves as human beings and enhancing my ability to guide individuals toward lasting transformation. 
As a coach, I strive to create a safe and supportive space for individuals looking to deepen their understanding of themselves and cultivate a life lived in freedom and authenticity. My holistic approach to wellbeing incorporates mental, emotional, spiritual, and physical aspects, and I draw upon my training to support my clients on their unique journeys.
I'm excited to connect with anyone seeking to find their wild by uncovering their true nature and live a full life of personal alignment, self-love, and inner liberation.
Tantric Embodiment Facilitator
I completed a comprehensive training program with InnerCamp as a Tantric Embodiment Facilitator, equipping myself with the skills and knowledge to guide others on a transformative journey of self-discovery. This CPD-accredited training has empowered me to support individuals in embracing their sensual and spiritual essence.

Mental and Emotional Well-being Coach
I successfully completed the Mental and Emotional Health and Well-being coaching certification with the prestigious Academy of York, gaining valuable expertise in supporting individuals in their journey toward holistic wellness. This comprehensive training has equipped me with the necessary tools and techniques to guide others in cultivating a positive mindset and achieving emotional balance.

Building upon my initial 200-hour yoga teacher training completed in South Africa in 2020, I further enhanced my expertise by undertaking an additional 100-hour training in Nicaragua in 2022 under the guidance of esteemed instructor Kayla Nielsen. This comprehensive 300-hour training has deepened my understanding of yoga philosophy, advanced asanas, and refined my teaching skills, enabling me to provide enriching experiences for my students.

I completed a thorough Life Coach training program with The Coaching Centre in South Africa, equipping me with the essential skills to guide individuals in realizing their potential and achieving personal growth. This training has empowered me to support clients in overcoming challenges, setting meaningful goals, and creating fulfilling lives.

I underwent rigorous training as a Reiki practitioner, learning the ancient healing art of channeling universal energy for the promotion of physical, emotional, and spiritual well-being. With my Reiki certification, I am equipped to provide healing and balance to clients, fostering a sense of harmony and vitality.
Megan D
"I found immense comfort in meeting Katherina, because of her soft nature to begin with... It was immensely powerful, and the support and love from Katherina, was felt. The entire experience was phenomenal."
Rumanah
"Working with Katherina has truly transformed my life. I walk away from every session feeling so calm, breathing a little more deeply and feeling stronger in my body. From carefully chosen poems that resonate deep within, to the joy and lightness she brings to our sessions, Katherina has gifted me with the space to go deeper within my body and soul."
Jason
"Katherina is super intuitive, gentle and nourishing in all our contact and sessions, while fierce enough to ensure I show up and give my best."
Connect with me on WhatsApp
Copyright © 2023 The Wild Hearted | Made with 💜 by Tay Zombulovich