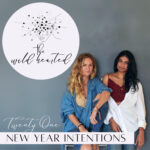 Chynene and Katherina are back in the first episode of 2023, sharing their goals and intentions for the new year. While they both may have vastly different ideas of what they want to achieve, they both intend to manifest in the same way. Listen as they teach each other how they managed to find success and purpose last year through visualisation and intention, and how they plan to materialise what they each want by the end of this year.
This episode covers how to set intentions and manifest in personal life and career. It also serves as a reminder for gratitude over how far we've come, and how to use the tools of our previous year to move us towards our goals. For information on the books or resources mentioned in this episode, reach out to us on Instagram of Email below.
Like, follow and share this episode to grow The Wild Hearted community.
@wearethewildhearted
www.thewildhearted.net
heythere@thewildhearted.net
watch us here
https://www.youtube.com/channel/UCNRs3LNAUmeemMHWSOMnqkA