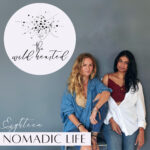 Have you ever wondered what it would feel like to leave everything behind and travel the world?
Katherina marks the one year anniversary of her doing exactly that by answering some of the questions we've all wondered about the road less taken.
Listen as Chynene asks about what it took to leave Katherina's comfortable life and corporate career in beautiful Cape Town to explore 17 countries in just under a year. Katherina talks openly about loneliness, hostel life, and getting familiar with being alone.
If you're someone who seeks adventure and has fantasised about life on the road, this episode will answer your questions.
instagram.com/thewildhearted.podcast