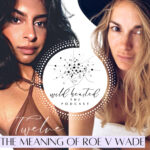 When the news about Roe v Wade hit, Chynene and Katherina both felt a deep sense of despair, anger, and frustration. There was no way that they could not talk about it. So they decided to use this platform to share their sentiment and hopefully also give a better understanding of what the full impact of this ruling really means.
To give this episode the justice it deserves, they invited their first guest, Dr Sara Mosadegh DNP RN. Sara is a nurse (with a doctorate in nursing practice), an academic professor, and Tantrika, blending her experience in western and eastern medicine to provide trauma-informed care and education.
If you are interested in getting a better understanding of the implications of the overturning of Roe v Wade, this is the episode to listen to.