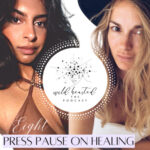 Do you sometimes find it exhausting to be 'healing', 'working on yourself' or trying to be a better person?
In this episode we deal with some lesser discussed mental health topics. Chynene and Katherina both come to terms with the challenges around 'doing the work'; realizing that active healing phases can be painful and exhausting.
This conversation discusses how we cope when we're trying to better ourselves.
We cover
toxic positivity,
feeling guilty for time off,
healing as a coping mechanism,
avoiding triggers out of fear,
holding space for friends who are going through tough times,
and accepting that it feels like life just fucking sucks sometimes and allowing ourselves to feel that way.